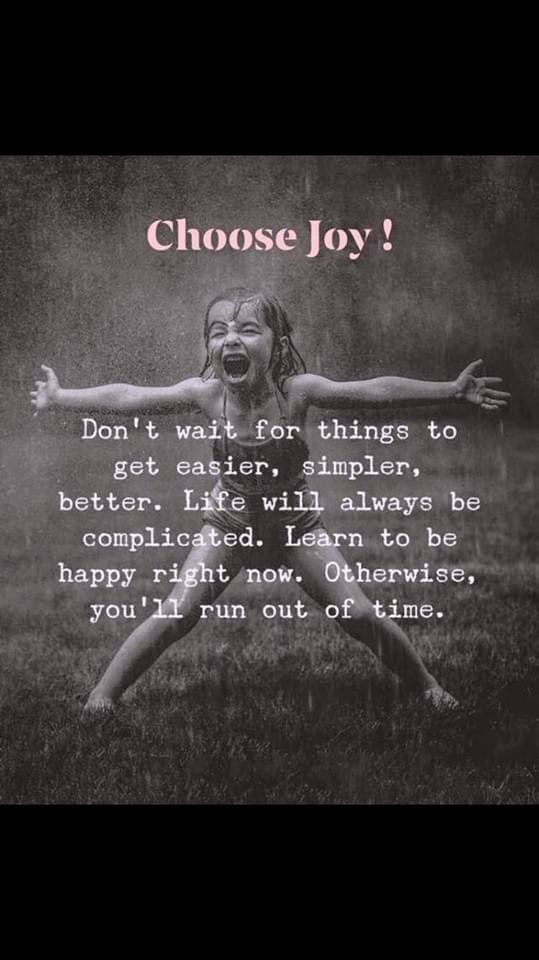 Choose joy, today! So many times we let what happens around us dictate to us how to feel. Have you ever woke up not feeling so well and said to yourself  something like "today is going to be such a bad day. I am feeling crappy".  And, every time that happens it is exactly what kind of day you will have. Some kind of self fulfilled prophecy…HUH?
God has given us the ability to choose how we want to look at the hard, complicated, and stressful times in our lives. It's so much easier to be negative, and not fight against it than to choose to look at the positive and be happy and content in all situations. Some can be so hurtful, hard and complicated! When we have God on our side we are more than conquerors and can be the victors in any and all situations. We can do all things because Christ will strengthens us.
We are not slaves to our feelings! Don't wasted time being unhappy, angry or bitter over something.  It takes so much physical energy to stay that way. Not to mention its affects on your physical health with all sorts of diseases and sorted health problems.
Let's do our best to choose joy, choose forgiveness and choose to seek and live in peace.
Seek Jesus and his Word if you are finding it hard to choose joy. He is faithful and merciful and loves us so much. He will help us and guide us and give us peace that surpasses understanding. He wants us to lean on Him and receive what He has for us.